I Have a Serious Liver Condition are Your Products Suitable for Me?
One thing all healthcare professionals will agree upon, especially if you're suffering from a serious liver condition is to immediately stay away from all the things that you know are bad for you, such as alcohol, smoke and unhealthy foods etc. The number one advice is to eat more healthy... especially fruits and green dense vegetables that are good for your liver, and to keep up with this new habit every-single-day.
Our 100% natural products not only contain healthy foods that are good for you, but each and every single Super-food contained in our products have a specific benefit for your liver. So yes our products are suitable for you, if you think you may be allergic to any ingredient contained within a product or still unsure please double check with your doctor prior to taking.
Is it really true that the Liver can Re-Generate itself fully?
Scientific studies prove that the liver is the only organ in the entire body that is capable of re-generating itself fully...click here to read an interesting article on wikipedia with credible references.
This does depend upon the level of liver damage. Some experts say re-generation can start to occur from as little as 25% others say even less but no-one really knows the exact percentage.
This awakens hope that no matter what the current condition of your liver right now... that there is hope, especially if you immediately start to care for and look after your liver starting today, you can do this by staying away from vices and start nourishing your Liver using the right nutrients, vitamins and aminos. Click here for a list of foods that are good for your liver.
Can your products help me with my Gallbladder?
Yes Liv Re-gen can help with your gallbladder, the most common reported gallbladder problem is regular stomach bloating. Your gallbladder needs sufficient amounts of Bile for it to be able to break down grease and fats easily in order to be functioning at 100%. Liv Re-Gen helps your Liver produce bile for optimum Gallbladder function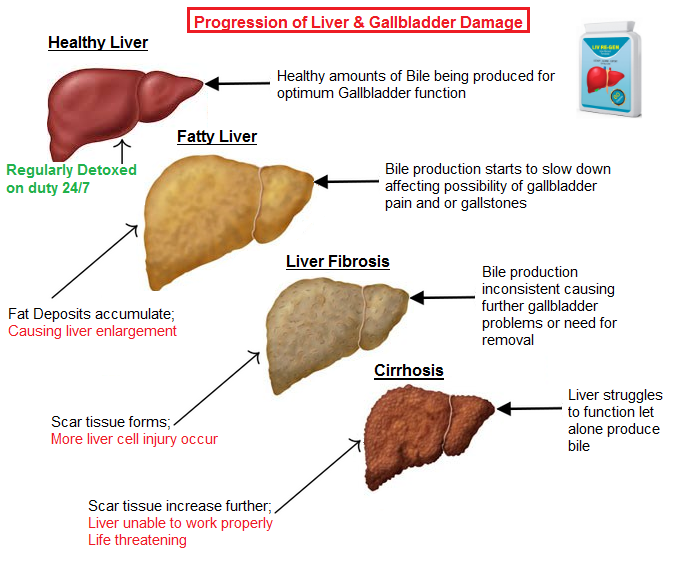 I have had my Gallbladder taken out, can Liv-Regen still help me recover after surgery?
Here is a testimonial from one of our customers who tried our product Liv Re-gen after having their gallbladder removed;
"I have had my gall bladder out and struggle to digest fats which is a real problem during summer with all the extra socializing accompanied by rich and creamy food. I have been taking Liv Re-Gen for a fortnight in an effort to prepare for the onslaught which is easy to take, just one capsule during meals and really noticed a difference after a weekend away at a family wedding, indulging in previous forbidden foods (Cheese, mayonnaise, bacon, cream, coffee, cake etc) without the tiniest stomach pain. Thank you"
Can I take your products whilst I'm on other medication?
Our products contain No Added Preservatives, No artificial colours, No flavourings, No dairy products, No gluten, No lactose, No soya, No sugar, No wheat No yeast and suitable for vegetarians. So should be okay to take, but if you want to be 100% sure just show the list of ingredients from our product page to your doctor.
Can I drink alcohol whilst I'm taking any of your products?

Firstly its important to understand that the liver when cared for by staying away from the things that are bad for it.... such as alcohol and instead delivering the right nutrients, herbs, vitamins and aminos on a daily basis for 120 days (4 month course) allows to firstly unclog and flush a congested liver and once this phase has been completed, then then second phase can begin that allows the liver to start repair and re-generate from any scar damage.

A 30 day course can help start the cleansing process for a congested liver and gallbladder, if you have sluggish digestion, feel bloated and constipated this is the first thing it will help with by flushing a congested liver in order to increase bile production. During this time you can still drink alcohol but the benefits will be minimalized.

A good analogy that we use to explain this concept is a car due that's for a service, you wouldn't take the car out and get on the motorway halfway through the service as this will reset any good work that's already been carried out, but rather you would wait for the service to finish.

So again although you can have a drink, we wouldn't recommend it until you have completed the course in order to maximize the benefits.
What is so good about Liv Re-gen?
We'll let our customers respond to this question, please feel free to look at our good and bad real customer reviews for Liv Re-gen. click here >>> then scroll down and click "show reviews"

Which country are you based in?
We are based in the United Kingdom and all of our products are also manufactured and dispatched from here in the United kingdom.

Do you ship to my country?
We ship to every country worldwide including USA, Canada, Australia, Europe, South America, New Zealand, India, UAE, etc

How much is postage and packaging to my country?
UK & Ireland - Postage and Packaging within the UK & Ireland is FREE.

Europe - Postage & Packaging using Tracked Recorded Delivery to any other country within Europe is FREE on Orders Over £60+ orders below £60 there is a small charge of £5.

International Rest of the World - inc USA, Canada, Australia, New Zealand, UAE etc - Postage & Packaging using International Tracked Recorded Delivery is FREE on Orders Over £60+ orders below £60 there is a small charge of £8.

I have another question not answered here?
Please submit your question using our contact us page and we promise one of our team members will get back to you within 48hrs.