Are you currently dispatching amid the covid-19 crisis?
Yes, even through the strictest of lock-downs we were and still are dispatching packages as normal, the UK government has always kept post offices open for businesses to continue to operate during this pandemic. If this changes we will update here.

I Have a Serious Liver Condition are Your Products Suitable for Me?
One thing all healthcare professionals will agree upon, especially if you're suffering from a serious liver condition is to immediately stay away from all the things that you know are bad for you, such as alcohol, smoke and unhealthy foods etc. The number one advice is to eat more healthy... especially fruits and green dense vegetables that are good for your liver, and to keep up with this new habit every-single-day.
Our 100% natural products not only contain healthy foods that are good for you, but each and every single Super-food contained in our products have a specific benefit for your liver. So yes our products are suitable for you, if you think you may be allergic to any ingredient contained within a product or still unsure please double check with your doctor prior to taking.
Is it really true that the Liver can Re-Generate itself fully?
Scientific studies prove that the liver is the only organ in the entire body that is capable of re-generating itself fully...click here to read an interesting article on wikipedia with credible references.
This does depend upon the level of liver damage. Some experts say re-generation can start to occur from as little as 25% others say even less but no-one really knows the exact percentage.
This awakens hope that no matter what the current condition of your liver right now... that there is hope, especially if you immediately start to care for and look after your liver starting today, you can do this by staying away from vices and start nourishing your Liver using the right nutrients, vitamins and aminos. Click here for a list of foods that are good for your liver.
Can your products help me with my Gallbladder?
Yes Liv-Re-Gen can help with your gallbladder, the most common reported gallbladder problem is regular stomach bloating. Your gallbladder needs sufficient amounts of Bile for it to be able to break down grease and fats easily in order to be functioning at 100%. Liv Re-Gen helps your Liver produce bile for optimum Gallbladder function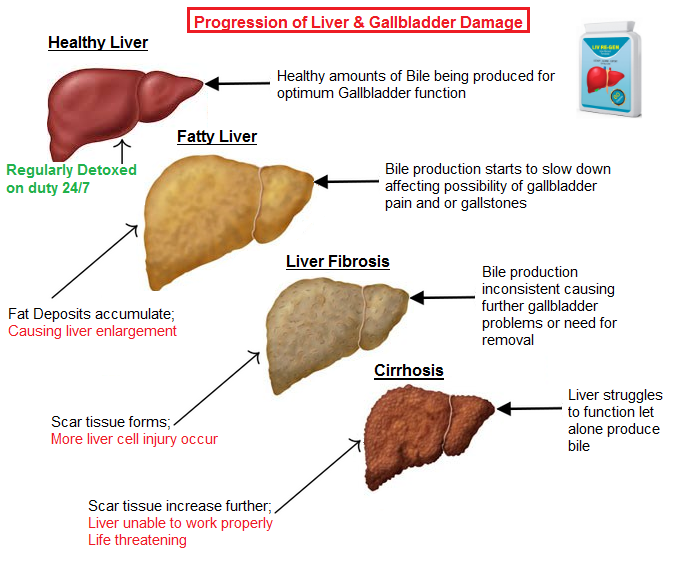 Can your products help me dissolve Gallstones?

We have an in-depth article written on this for more info click here

I have had my Gallbladder taken out, can Liv-Regen still help me recover after surgery?
Here is a testimonial from one of our customers who tried our formula Liv Re-gen after having their gallbladder removed;
"I have had my gall bladder out and struggle to digest fats which is a real problem during summer with all the extra socializing accompanied by rich and creamy food. I have been taking Liv Re-Gen for a fortnight in an effort to prepare for the onslaught which is easy to take, just one capsule during meals and really noticed a difference after a weekend away at a family wedding, indulging in previous forbidden foods (Cheese, mayonnaise, bacon, cream, coffee, cake etc) without the tiniest stomach pain. Thank you"
Can I take your products whilst I'm on other medication?
Our products are classed as food supplements and contain No Added Preservatives, No artificial colours, No flavourings, No dairy products, No gluten, No lactose, No soya, No sugar, No wheat No yeast and suitable for vegetarians. So although in theory it should be okay to take, its still best to if you want to be 100% sure just show the list of ingredients from our product page to your doctor prior to taking.
I have an existing medical condition or have had previous medical related surgeries are your products safe for me to take?
Because we class all of our products as food supplements they are generally safe to take, when it comes to existing medical conditions. That is unless you are allergic to any specific ingredient contained within one of our products. If you are still unsure please consult you doctor prior to taking
Can I take Liv-Re-Gen whilst Pregnant?
As some of our antioxidant ingredients contained within our formula are quite powerful, therefore just to be on the extra safe we would NOT recommend taking whilst pregnant.

Can I take Liv-Re-Gen whilst breastfeeding?
It should be okay to take our food supplement whilst breastfeeding, but please be aware that Liv-Re-Gen does contain garlic as one of the ingredients, this could possibly change the taste of the breast milk, but if you already eat garlic in your foods then there will be no difference.
How long should I take for?
How long you take one of our products entirely depends on what you are taking them for. For example our bestselling product Liv-Re-Gen has a very wide range of users, some take because of poor gallbladder function where they feel bloated and struggle to digest food, some take to help recover after gallbladder surgery, some take to help with liver pain or to help with fatty liver disease or a more serious liver condition and some just use occasionally purely as a hangover cure after a long weekend.
So how long you take entirely depends on your personal needs.
I have difficulty swallowing capsules, how can I take to make it easier? Or can I open up the capsules and put it a glass of drink and consume?

Although you can open the capsules and have with a drink, but this may cause heartburn or acid reflux as the multiple ingredients in its raw form will have to pass your lower chest area.

A suggestion; if you have difficulty swallowing capsules is take a big bite of food, keep chewing until soft enough to swallow and just before you are about to swallow take the capsule in your mouth and swallow down with the soft food, then consume plenty of water. This should make it easier.
Can I drink alcohol whilst I'm taking any of your products?

Firstly its important to understand that the liver when cared for by staying away from the things that are bad for it.... such as alcohol and instead delivering the right nutrients, herbs, vitamins and aminos on a daily basis for 120 days (4 month course) allows to firstly unclog and flush a congested liver and once this phase has been completed, then then second phase can begin that allows the liver to start repair and re-generate from any scar damage.

A 30 day course can help start the cleansing process for a congested liver and gallbladder, if you have sluggish digestion, feel bloated and constipated this is the first thing it will help with by flushing a congested liver in order to increase bile production. During this time drinkink alcohol may minimize the benefits.

A good analogy that we use to explain this concept is a car due that's for a service, you wouldn't take the car out and get on the motorway halfway through the service as this will reset any good work that's already been carried out, but rather you would wait for the service to finish.

So again although you can have a drink, we wouldn't recommend it until you have completed at the very least a 30 day course in order to maximize the benefits.
What is so good about Liv-Re-Gen?
We'll let our customers respond to this question, please feel free to look at our good and bad real customer reviews for Liv Re-gen. click here >>> then scroll down to see reviews.

How should I take Liv-Re-Gen?
To get the most out of your Liv Re-gen, its best to take x1 capsule at a time x2 times per day, after or in between meals. So x1 capsule after morning breakfast or after lunch and x1 capsule after dinner.

If however your organs are in mild pain around the liver and gallbladder area or you feel heavily congested take x3 capsules per day, x1 after breakfast, x1 after lunch and x1 after dinner. Do this until the pain resides and then gradually reduce to x2 capsules per day.

Is there a recommended way to take the Super Flush Cleanse Bundle?
Here's how we recommend to take the Super Flush Bundle program for best results...

Take Liv-Re-Gen straight after meals on a full stomach, that's x1 capsule on its own x2 times per day, preferably x1 after lunch and x1 after dinner...
As for Clean and Light, take this on its own before retiring for bed once per night..

Finally save the After Flush pro-biotic, and only take this once you have completely finished taking Clean and Light course...
Which country are you based in?
We are based in the United Kingdom and all of our products are also manufactured and dispatched from here in the United kingdom.

Do you ship to my country?
We ship to every country worldwide including USA, Canada, Australia, Europe, South America, New Zealand, India, UAE, etc

How much is postage and packaging to my country?
UK & Ireland - Postage and Packaging within the UK & Ireland is FREE.

Europe - Postage & Packaging using Tracked Recorded Delivery to any other country within Europe there is a small charge of £5.

Africa - Due to postal uncertainty DHL option is only available for African nations which will be calculated at checkout.
International Rest of the World - inc USA, Canada, Australia, New Zealand, UAE etc - Postage & Packaging using International Tracked Recorded Delivery there is a Flat rate charge of £8.

How Long Does Delivery Take?
United Kingdom (UK) - Delivery within the UK takes between 1 to 3 Working Days.

Europe - Delivery within the EU takes between 3 to 5 Working Days

International Rest of the World - International Delivery Everywhere takes between 5 to 7 Working Days. We also provide a Tracking number on request so you can track your delivery.

I have already placed an order, but received no email confirmation, what should I do?

As our email order confirmations and shipping emails are automated they can sometimes accidentally end up in your spam box especially for MSN and Hotmail email addresses, so we recommend to find our email and mark as not spam and add to your inbox, this way you will be sure to get future email updates about your order delivery.

I am thinking of ordering but would like to know how Your Refund and Returns Policy works?

All of our products from Flush My Liver are backed by our exclusive 30 day money back guarantee, feel the positive difference by trying one of our products for 30 days or its free.
If you are not happy for any reason, simply let us know within 30 days of purchase by filling out our contact us form and by including your order number.
If it was just one product you ordered, your refund will be processed without you needing to return the item. If however. you ordered more than 1 quantity of the same product, then you will be asked to return the unused sealed items before the refund is processed.
I have another question not answered here?
Please submit your question using our contact us page and we promise one of our team members will get back to you within 48hrs.